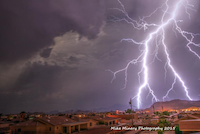 Mother Nature gave us quite a show with the recent storm that blasted Lake Havasu.
Thunder, and lighting, and rain - oh my…it was quite a night. Wind gusts of approximately 50 - 60 mph caused trees to blow over, awnings to be ripped from their foundations & other wind damage.
I can sum it up in one word: WOW!
Click here to see more awesome shots from River Scene Magazine!!